Nichol Markowitz is an Oakland based artist and Master Printer specializing in Mokuhanga woodblock printing, copperplate etchings, collage, and Japanese scroll mounting techniques. She earned her BFA in Printmaking from the Rhode Island School of Design in 2007 and completed her Masters in Modern and Contemporary Art History from Azusa Pacific University in 2022. In addition to her role as Master Printer and Art Director for Favianna, she continues to pursue her personal art practice.
nemprints.com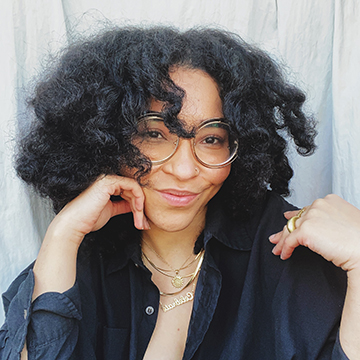 Jay Katelansky is an interdisciplinary artist. She is currently living and working in Oakland, California. She earned her BFA from Moore College of Art and Design and her MA and MFA from the University of Wisconsin-Madison. Her work questions how Black bodies, including her own, navigate space and safety in the United States. Jay is currently working on mediums such as rug tufting, painting and printmaking.
jaykatelansky.com
MJ (she/her) is a Filipinx operations leader based in Vancouver, Canada, with 15 years of experience managing business operations and leading teams in demanding high-volume environments. She earned a reputation for streamlining and standardizing processes to deliver a profound impact on performance, efficiency, and cost savings. Born and raised in the Philippines, she attended college in Cebu City. She earned a degree in Psychology at Cebu Doctors' University and a second degree in Human Resource Management at York University in Toronto, Canada. MJ loves to cycle, travel the world, and cook for her family and friends during her spare time.
Janice is a newbie executive assistant. She is dedicated to helping Favianna be her best self. Outside of work, she enjoys walking her dog, collecting Starbucks tumblers, and spending time with her family.